Farmrail System, Inc. is an employee-owned holding company for two Class III common-carrier railroads comprising "Western Oklahoma's Regional Railroad."   Farmrail Corporation (FMRC) has acted since 1981 as a lessee-operator for Oklahoma Department of Transportation, managing an 82-mile east-west line between Weatherford and Erick. An additional 89 miles, Westhom-Elmer, was purchased from the state in 2013 after 20 years of operation under lease.  Another wholly owned affiliate, Grainbelt Corporation (GNBC), was formed in 1987 to purchase from Burlington Northern Railroad Company 178 miles of line linking Enid and Frederick. The parent company also has a joint-venture interest in New York's Finger Lakes Railway Corp. (FGLK).
April 2018
Life on the plains took on a new dimension this month as extraordinarily dry weather led to uncontrollable wind-driven wildfires throughout western Oklahoma. An estimated 366,000 acres were burned and several small communities evacuated during several anxious days before the blazes could be contained. Farmrail facilities fortunately suffered no damage, though a major wooden trestle on GNBC was at potential risk.
2018 FRA Region 5 Training Seminar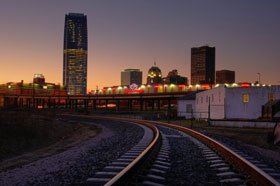 Farmrail is proud to host the 2018 Region 5 FRA Safety and Training Seminar in beautiful Downtown Oklahoma City on August 7th - 9th. This FRA instructed seminar is a great way of updating and refreshing your knowledge of rules and regulations applicable to our industry.
Stop highway abuse - Ship by rail