Farmrail System, Inc. is an employee-owned holding company for two Class III common-carrier railroads comprising "Western Oklahoma's Regional Railroad."   Farmrail Corporation (FMRC) has acted since 1981 as a lessee-operator for Oklahoma Department of Transportation, managing an 82-mile east-west line between Weatherford and Erick. An additional 89 miles, Westhom-Elmer, was purchased from the state in 2013 after 20 years of operation under lease.  Another wholly owned affiliate, Grainbelt Corporation (GNBC), was formed in 1987 to purchase from Burlington Northern Railroad Company 178 miles of line linking Enid and Frederick. The parent company also has a joint-venture interest in New York's Finger Lakes Railway Corp. (FGLK).
June 2018
Farmrail's commitment to hometown Clinton is being reinforced by extensive renovation of the headquarters office to improve the workplace environment. Across town, construction of a new 3,450-square-foot steel building to accommodate all operations, safety and customer-service functions is expected to begin next month. An adjacent 5,500-square-foot building will be renovated for exclusive use by mechanical personnel.
2018 FRA Region 5 Training Seminar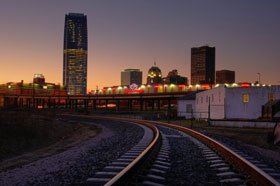 Farmrail is proud to host the 2018 Region 5 FRA Safety and Training Seminar in beautiful Downtown Oklahoma City on August 7th - 9th. This FRA instructed seminar is a great way of updating and refreshing your knowledge of rules and regulations applicable to our industry.
Stop highway abuse - Ship by rail