Farmrail System, Inc. is an employee-owned holding company for two Class III common-carrier railroads comprising "Western Oklahoma's Regional Railroad."   Farmrail Corporation (FMRC) has acted since 1981 as a lessee-operator for Oklahoma Department of Transportation, managing an 82-mile east-west line between Weatherford and Erick. An additional 89 miles, Westhom-Elmer, was purchased from the state in 2013 after 20 years of operation under lease.  Another wholly owned affiliate, Grainbelt Corporation (GNBC), was formed in 1987 to purchase from Burlington Northern Railroad Company 178 miles of line linking Enid and Frederick. The parent company also has a joint-venture interest in New York's Finger Lakes Railway Corp. (FGLK).
January 2018
The latest additions to Farmrail's growing customer list, now at 58, selected distribution locations at opposite ends of the state-owned segment of FMRC – Nalco Chemical at Weatherford and Great Basin Brine at Erick. To support sharply increased traffic from resurgent oilfield activity, record capital spending is anticipated for 2018 track and bridge upgrading to handle 286,000-pound loads where freight tonnage is heaviest.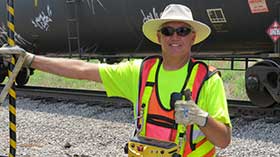 Farmrail is searching for newcomers with proven character, ability and attitude who really want to be railroaders.  We need enthusiastic team players who spend their time productively, interact comfortably with co-workers, and perform effectively for our fans – the customers.
Stop highway abuse - Ship by rail